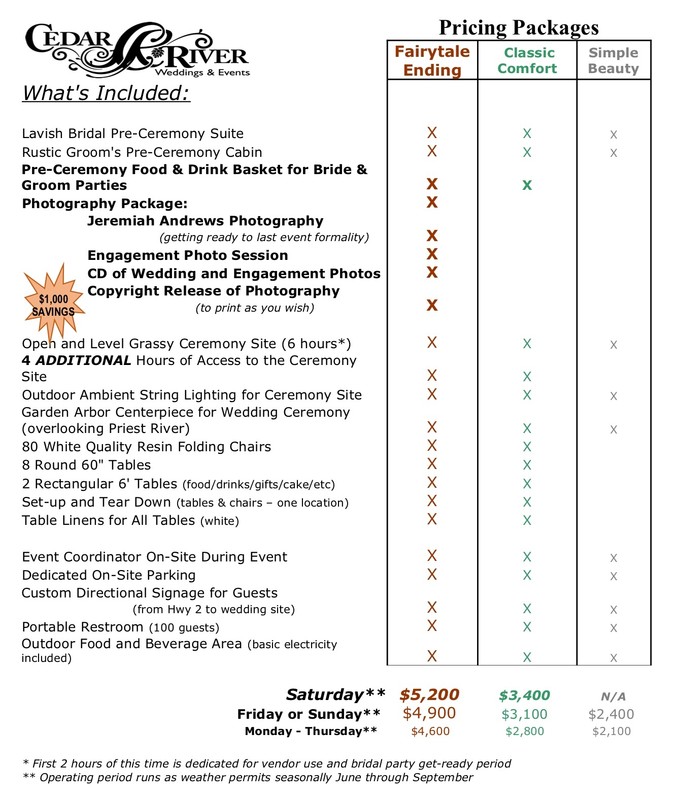 Cedar River's Weddings - Destination Wedding Vibes That Won't Break The Budget



At every price point, our couples enjoy the majestic beauty of Priest River and its breathtaking surrounding landscape. The easy drive to our location from Spokane, Sandpoint or Coeur d'Alene does not prepare guests for the serene natural beauty that awaits them just minutes out of town.
Boasting ample river frontage and acres of treed forest grounds, Cedar River is ideal for the adventurous couple with an affinity for natural beauty. From the lush and vibrant grasses of our primary ceremony site, to enchanted cedar groves on the river's edge … we believe our destination wedding venue offers limitless, diverse and magical photographic opportunities for every artistic taste.
All Vendors & Service Providers Welcome At Cedar River



Cedar River welcomes outside caterers, florists, dj's, officiants, beauty providers, bakers, decorators, and photographers. Yes, we welcome all outside vendors to provide services for events hosted at Cedar River!
We are always on the lookout to build our local network of exciting and dedicated professionals with the same exceptional service goals and ability to bring dreams to life for our clients. Even if Cedar River is not the perfect venue for you, we can probably help you find a vendor to trust.
Venue and Photography Packages Offer Increased Savings
You may already be aware that one of our co-owners is a leading, area wedding photographer, Jeremiah Andrews. You may even wonder if we require our couples to use Jeremiah as our exclusive site photographer. The answer is, no. We are glad to offer Jeremiah's photography services at a substantial savings for couples opting for the Classic & Comfortable or Simple Beauty packages (over 25% off of his most popular retail package). For couples indulging in the Fairytale Ending package, Jeremiah's engagement and wedding photography services are completely included at an even greater discount (a $900 savings).
Availability is Limited
Our goal is to accommodate those couples with their hearts set on enjoying this location for their special day; we are able to best meet the needs of our clients by only offering Cedar River Weddings for a limited number of events per summer.
This means, we offer mid-week as well as Friday or Sunday event openings for couples flexible in their schedules. Our Pricing Guideline will clearly walk you through the pricing and availability options to fill your need.
Promotions & Discounts Available
Check out our current Promotions page for discounts and referral cash opportunities.
Don't see a package that fits your needs exactly?
Not to worry. Cedar River welcomes the challenge of creating unique events. We can arrange just about any accommodations, services, or equipment needs you may have … just ask!
We are here to help.